TURAN KIMYA TO PARTICIPATE AT ITMA 2019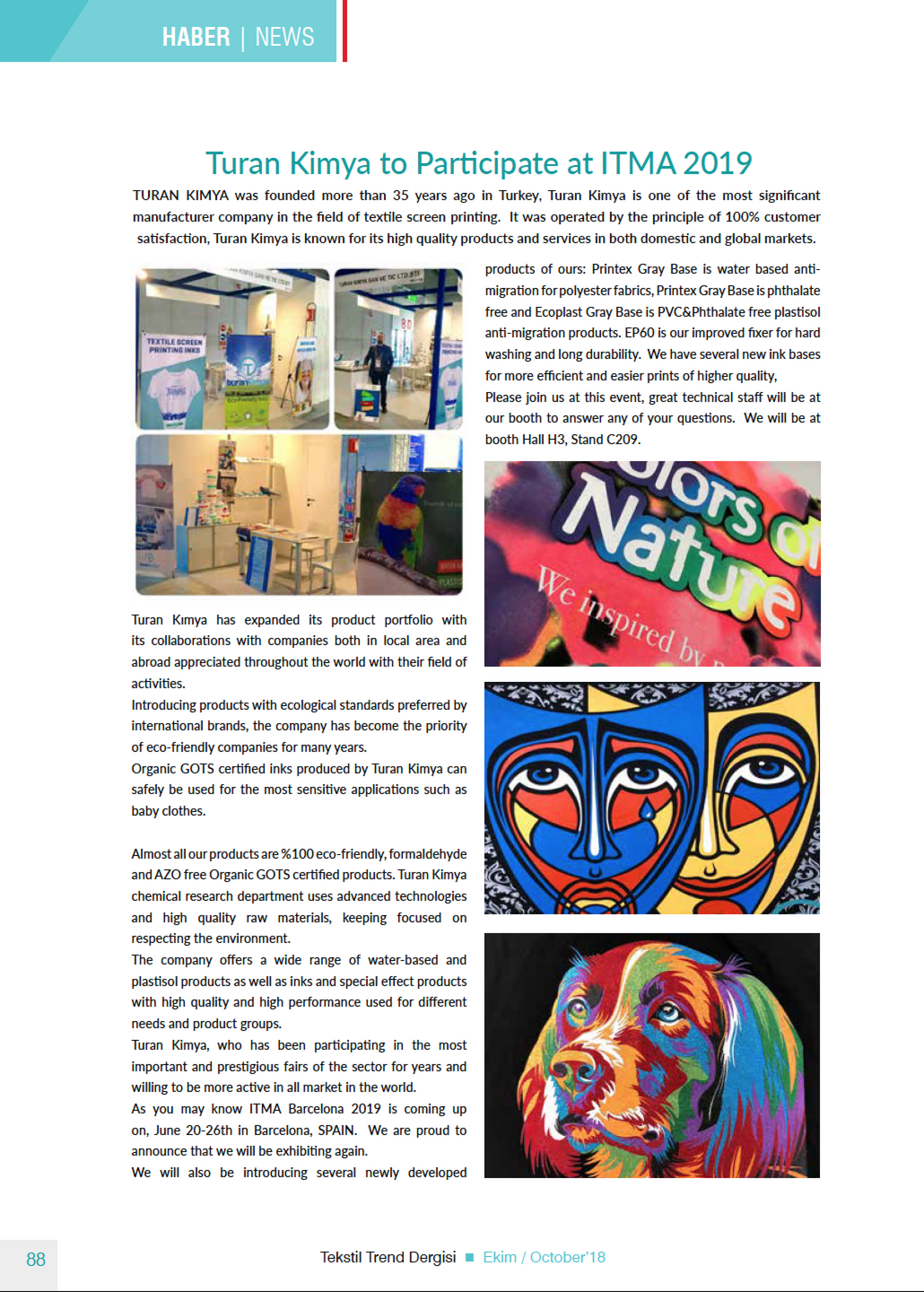 TURAN KIMYA was founded more than 35 years ago in Turkey, Turan Kimya is one of the most significant manufacturer company in the field of textile screen printing.
It was operated by the principle of 100% customer satisfaction, Turan Kimya is known for its high quality products and services in both domestic and global markets.
Turan Kımya has expanded its product portfolio with its collaborations with companies both in local area and abroad appreciated throughout the world with their field of activities.
Introducing products with ecological standards preferred by international brands, the company has become the priority of eco-friendly companies for many years.
Organic GOTS certified inks produced by Turan Kimya can safely be used for the most sensitive applications such as baby clothes.
Almost all our products are %100 eco-friendly, formaldehyde and AZO free Organic GOTS certified products. Turan Kimya chemical research department uses advanced technologies and high quality raw materials, keeping focused on respecting the environment.
The company offers a wide range of water-based and plastisol products as well as inks and special effect products with high quality and high performance used for different needs and product groups.
Turan Kimya, who has been participating in the most important and prestigious fairs of the sector for years and willing to be more active in all market in the world.
As you may know ITMA Barcelona 2019 is coming up on, June 20-26th in Barcelona, SPAIN. We are proud to announce that we will be exhibiting again.
We will also be introducing several newly developed products of ours: Printex Gray Base is water based anti-migration for polyester fabrics, Printex Gray Base is phthalate free and Ecoplast Gray Base is PVC&Phthalate free plastisol anti-migration products. EP60 is our improved fixer for hard washing and long durability. We have several new ink bases for more efficient and easier prints of higher quality,
Please join us at this event, great technical staff will be at our booth to answer any of your questions. We will be at booth Hall H3, Stand C209.