01 Nov 2018
FESPA, TSGA organize Asia Print Expo 2019 to highlight innovation, vibrancy of the world of print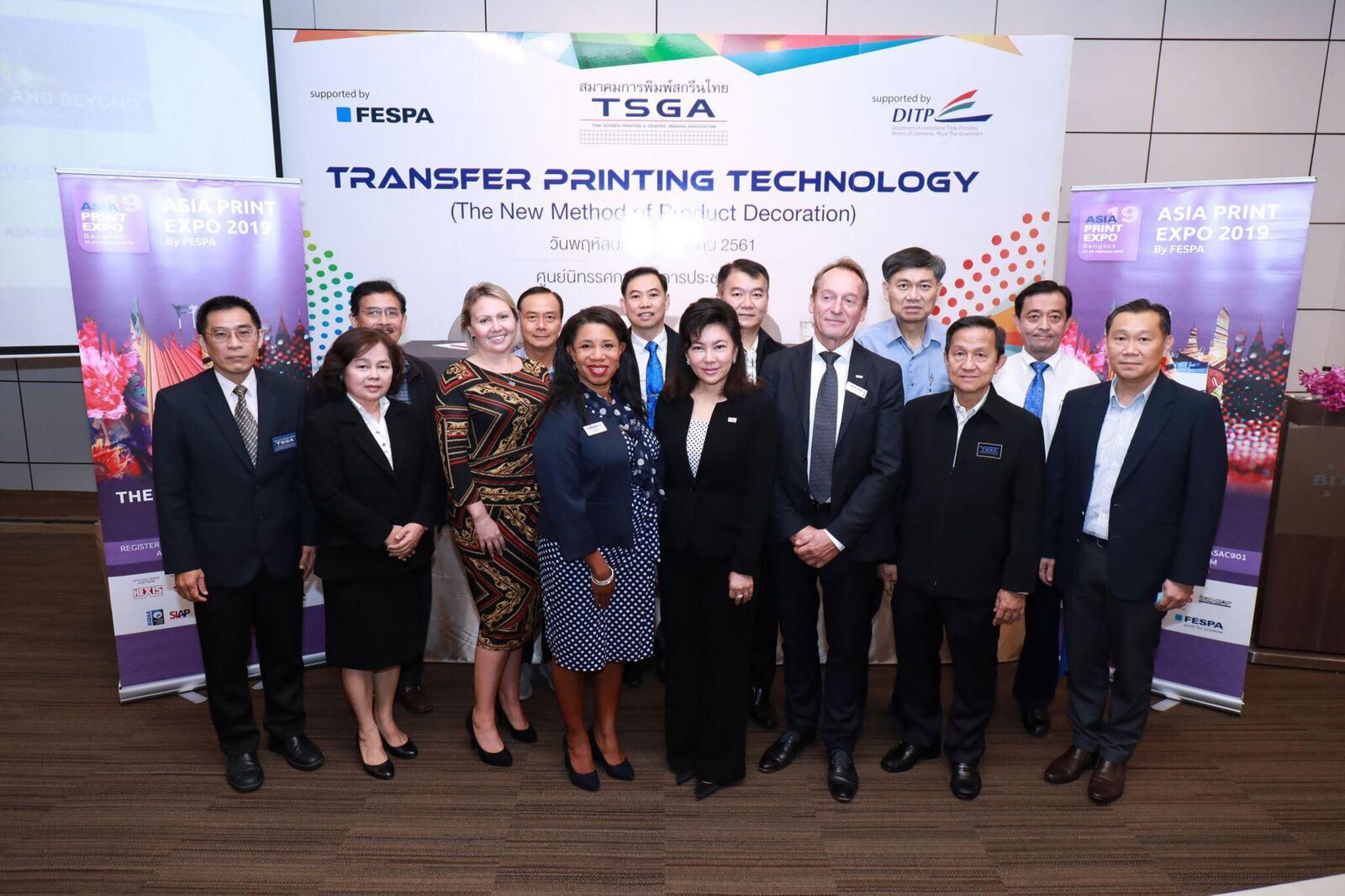 The Federation of European Screen Printing Association (FESPA) and the Thai Screen Printing & Graphic Imaging Association (TSGA) have teamed up to organize Asia Print Expo 2019 along with an all-important international symposium titled "Transfer Printing Technology" – innovations in print production design. This event aims to inspire entrepreneurs, producers and designers in the screen printing industry, textile printing, digital printing and advertising-sign markets.
Print Make Wear Asia, a fashion business demonstration, will be another major activity at Asia Print Expo 2019, which is scheduled to take place from February 21-23, 2019 at the Bangkok International Trade and Exhibition Center (Bitec), Thailand. This not-to-be-missed demonstration will impart knowledge and development guidelines in the attire business from the first step of design to the end product of clothes and fashion decorations.
FESPA Asia Ambassador Mr. Anders Nilsson said digital printing technology is tremendously popular as it is witnessing high demand across the globe. The factors contributing to its popularity are clear, quality prints and production that saves on time while there is no need for printing in large volumes. The latest technology also allows customers to choose designs of their wish – personalization that helps make print more targeted to end users, which is increasingly important as the digital world continues to become more deeply connected.
FESPA's latest survey – conducted in 2018 and involving as many as 1,400 organizations in Europe, Eurasia, Mexico, Brazil, South Africa and Thailand – found that designers worldwide are 44 years old on average, while 6% are of the new generation aged 18-24 years. In Thailand, designers/entrepreneurs are an average 36 years old. People in the industry abroad earn approximately €6.21 million (THB233 million) on average per year. In Thailand, their income is put at €5.6 million (THB210 million) per year.
The survey found six trends worldwide in the printing industry: 1) Optimism; the digital print industry is growing. This type of printing makes up 44 per cent of total income for organizations in the sector. The growth is expected to be as high as 53% in 2020; 2) Customer demands; Customer demands keep changing, especially production at the personal level and mass customization, which is in higher demand. Meanwhile, 72% of customers want faster processing speeds and 61% seek quicker production time and lower costs. Some 59% expect production capacity can meet demand; 3) Evolving wide format product mix. Comprehensive printing innovation: the market for banners or billboards is witnessing healthy growth. Companies are starting to provide other services too, but still extend services of printing on other materials. Wallpaper printing/printing on interior decoration items is another branch that is driving growth of the sector; 4) Digital technology investment; Precisely 54% of companies are investing in digital technology to respond to customer demands. And 53% of businessmen in the digital printing industry want to reduce operational and production costs while placing significance on investing in products and seeking new markets; 5) Textile; Printing plays a greater role in the textile industry: 56% of textile operators use digital printing in production, 19% plan to go in for this printing by the year 2020. The main objective is to reduce production time to the market and freely conceive new designs, easily create prototypes and reduce the environmental impact by using less water and lower energy consumption. Textile printing is expected to generate income for up to 12% of businesses by the year 2020; 6) Environmental demands; Business development and environmental conservation are part of customer expectations: 32% of entrepreneurs place significance on using lower energy and appropriate equipment which conserve the environment, and 72% are investing in business development to bring about sustainability by ensuring unchanged prices to prevent a negative impact on customers and to be able to compete.
FESPA wants a global printing industry that develops with sustainability. FESPA Head of Marketing Ms. Sarah Farrell said the Association has invested €1 million (THB37.5 million) globally, especially in ASEAN, to create knowledge and business networks. Furthermore, in a move to promote professionalism, the Association will present its prestigious 2019 FESPA Awards to competent organizations with excellent business management. Those interested in participating can enter the contest and get updates at www.fespa.com.
FESPA Exhibitions Director Mrs Roz Guarnori, concluded: "The upcoming Asia Print Expo by FESPA seeks to help business operators advance into the future world of print, opening up their view on how to develop and generate income for their print business in this digital era. FESPA will share valuable knowledge and worldwide business experiences with people interested in gaining knowledge about sector trends and market developments to create a sustainable business advantage in the printing industry."
For those interested in the latest developments and updates on Asia Print Expo 2019, kindly visit www.asiaprintexpo.com. You can also register in advance to visit the event free of charge by using the code ASAM903.